Your Portal To Getting the Most Benefit from the Sun and Solar Energy
Welcome to Solar Facts and Advice - your authoritative source for facts and advice about solar energy and everything solar.
You've lived with the sun your whole life and probably like most of us take it for granted. But do you realize just how great the sun is and what it can do for you?
Our goal is to help you get the most benefit from the sun. Whether you want to protect yourself against disease, produce electricity, cool yourself down, reduce your utility costs, make money, improve your lifestyle, or protect yourself from damage by the sun - this site is here to help you.
The sun is there for you ... and you owe it to yourself to get the most out of it.
Here are some of what you'll learn from reading this site:
Solar Facts
Every person ever born has experienced the suns benefits and you would think we would know everything there is to know about the sun - but that just isn't the case. To find out what we do know ... as well as what we are still learning about, read some of the articles in our section on Solar Facts.
Producing Electricity from the Sun
Electricity is the lifeblood of modern civilization and you can get as much as you want from the sun.
But to do it right there is a lot of new terminology, technology, concepts and practical issues that you should know if you want to make the most informed choices about how to proceed.
Whether you want to invest in solar projects to make money, work in the expanding field of solar energy applications, or use solar energy for your own home or lifestyle - we're collecting and publishing a lot of valuable information about the technologies, including detailed facts, expert advice, and valuable tips that will save you time and money.
Using Solar Energy For All Kinds of Things
One of the first things to keep in mind is that solar energy can provide more than electricity, it can be used to produce heat and even cooling. Coupled with other products there is a growing number of practical ways that solar energy is creating more options to change our lives. Read our new section on Solar Uses for examples of how solar energy can be used in positive ways.
Let the Sun Work for You
Next to good health and electricity - you need money to survive - and the sun can help you make that too.
Solar power is one of the fastest growing industries. Why? Because a lot of people are making money: solar customers, investors, entrepreneurs, employees, installers, researchers, bankers, the list of people benefiting from the growing popularity of solar energy is growing quickly. Hundreds of thousands of new jobs are being created - and this industry is just getting started. The opportunities to make serious money are available and we are collecting and publishing information about these opportunities provide some valuable tips to help you select which opportunities could benefit you.
Sure solar energy is good for the environment, and it's especially nice when the sun comes out, shines on your solar panels and put money in your bank account. More than 63 countries have incentive plans that pay you to produce electricity from the sun ... and a lot of people are making money doing this.
Whether you are looking for a good investment opportunity, want to reduce your utility costs, improve the value of your home, start a career or new solar business - we're putting together valuable information, resources and advice to help you.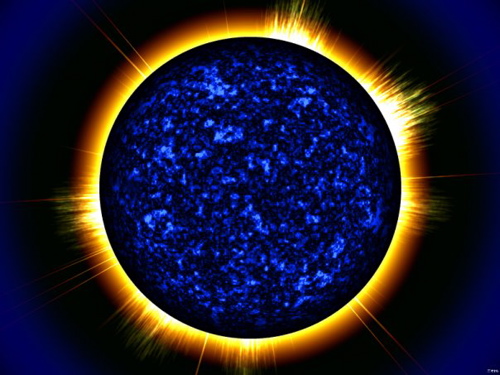 "The sun, with all those planets revolving around it and dependent on it, can still ripen a bunch of grapes as if it had nothing else in the universe to do>" - Galileo.
Your Body Needs Sunshine for Good Health
When you are in the sun - your body naturally produces vitamin D, which is vitally important for good cell health and disease prevention.
According to researchers nearly two-thirds of all diseases can be linked to vitamin D deficiency. It is necessary for good health and it helps you optimize your body - by building and maintaining a strong skeletal system, heart and even muscle health.
Nearly 90% of adults are Vitamin D deficient- so be sure to read the many articles we've written regarding the benefits of Vitamin D, the best way to get vitamin D, and all ways it helps your body run better, including helping you prevents 70% of the major diseases, live longer, and much more.
Improve your quality of life
Not only can the sun help improve your overall health, provide you with the energy you need but going solar helps reduce carbon emissions, and can give you peace of mind. Learn what people all around the world are doing to bring about the solar revolution.
Learn about the Latest Solar Research
An enormous amount of resources are being invested in new photovoltaic technologies and products that will make solar energy an even bigger part of our lives. The solar industry is changing quickly – and change creates opportunities.
Check out our section on Solar Research to learn about some of the most promising research going on that will make solar energy more effective and more reliable. We have info about ongoing product research as wall as engineering information and links. For example, check our link on Thermal evaporation that is used in the production of solar cells.
Interesting Solar Projects and Applications
One of the new areas we'll be adding soon will be about interesting solar applications, and interesting examples of real life solutions that people have built / plan to build using solar energy. In fact, if you know of any such applications please send them to us and will add them to our site.
Avoid Problems
Like any fast growing industry things are changing quickly - and there is a lot of information coming out. We help you sift through this information - find the key facts, identify the key trends, find good opportunities, connect you with the people who can help you, and give you advice to let you get the most benefit from the sun and solar energy.
Our goal is to help you learn the facts - not just the easily discoverable facts, but the insights and advice from experienced professionals and solar energy users ... and to provide suggestions and contacts to help you use this information for your advantage.
Read our Blogs
Click on "New Articles" to the right so you can quickly see the new articles we've added to our site on a day by day basis.
Solar News and Views is a one stop place to find the latest industry news, updates about leading solar panel manufacturers, solar industry forecasts and analysis, and articles about what is happening around the world in the solar industry.
To find out what is happening in your country - just enter it in the handy searching tool at the bottom of each page and you'll find articles we've written on just about every solar subject. We've written more than 700 helpful and interesting articles about solar energy and related topics to help you.
When you sign up for our RSS feed or friend on Facebook you can be advised as new articles are added to our various websites and blogs.
Solar Energy is a Community
Everybody on the planet benefits from the sun -- and we want you to benefit even more than you have in the past. To do that we're publishing important facts and advice -- but to get the most out of what we're doing - join our network. "Like" us on Facebook, "Follow" our blogs, send messages, volunteer articles, link to our site, leave comments -- give us your feedback.
If you have questions, suggestions please be advised we've recently teamed up with major solar engineers and developers in Europe in order to provide you with information about even more products, opportunities, and to provide you with personalized assistance on any commercial projects you are involved with. To get customized advice, send us information about what you are doing, or leave a comment be sure to click on Contact Us.
Be an active part of the solar community - and let's all enjoy the sun together.
Thanks for visiting - come back often.
Find Related Articles
To find related articles - use our built-in site searching tool below. Just type in a few key words or phrases to search this site, our blogs, our Facebook fan page and our other sites for related articles and links.

Custom Search
Solar Facts and Advice helps you produce electricity, improve your health, and make money from the sun. Get the facts, valuable advice, and network with others who support solar energy.
Get latest solar news, industry trends, research, and who's doing what around the world.
A recap of some promising solar research
Consider the many advantages of solar energy today
Studying the sun should be a major priority in the 21st Century. Here are some facts about the sun to help you better understand solar energy.
Solar energy is radiant energy produced by the sun. Mostly it is good, but sometimes there can be problems. Get the facts
Our concepts of time originated with the Solar Calendar. Learn more including links to convert to other calendars
This page is an open invitation to recommend your favorite music about the sun, the joy of sunshine, or anything sun related
Discover the advantages and disadvantages of different types of solar cells to help you make the right choice for your home
Monocrystalline solar panels are the most efficient and longest lasting. Learn why they are the industry standard and their 8 advantages and 2 disadvantages.
Polycrystalline solar cells are a lower cost, but less efficient alternative to solar cells made from a single silicon crystal, get the facts.
Learn the advantages and disadvantages of various thin film solar panel technologies
What are solar panels, solar cell technologies, and solar research? Go to Solar Facts and Advice.
Solar concentrators: get an overview of this field, promising research updates, insights and advice
Here are 5 Options for Solar Panel Cleaning
Trina Solar - Sales up, earnings up, stock price up – learn more
Solar rooftop leasing is becoming more popular – here's what you need to know
What are SRECs? How do I get one? How much are they worth? Who benefits?
Feed in tariffs help create jobs and speed up the adoption of renewable energy – especially solar
Thinking of starting your own solar business? We've identified 20 Solar business opportunities for you
Solar Facts & Advice launches networking service to promote Angel Investing in solar projects and companies
Solar careers are one of the bright spots of today's job market. Read on to learn where the opportunities and resourcesare.
Several solar energy stocks had gains over 100% in 2010, and two gained more than 1,000 % – what will happen in 2011?
Full turnkey cogeneration small business opportunity involving a minimum of 450 kw (electricity) / 420 kw (thermal) in Germany, 90% financing available, high ROI for investors
Sitesell: The complete system for a sustainable online business, the best internet marketing program ever – buy one get one free
Learn why a solar attic fan can benefit you and some helpful tips for selecting one
Solar cooking is better than tending wooden fires, which are believed to contribute to the deaths of upwards of 2 million women and children per year
Solar steam, when produced at the right cost, can open up More markets for solar energy
Cogeneration is one of the best clean energies. When powered by rapeseed oil they qualify for Feed in Tariffs and produce electricity and thermal energy 24/7
Vitamin D is needed for good health, disease prevention and long life ... and its free
3 quick ways to heal sun damaged skin you can use anywhere
There is a growing body of evidence of a correlation between levels of vitamin D and diseases. Read on for a comprehensive list of these diseases
Vitamin D3 supplementation provides protection against radiation according to leading radiological health expert
Up to two-thirds of the medical problems in the USA are related to Vitamin D deficiency and unbalanced diet
The sun can help with two types of depression – economic and personal – learn how
Study finds vitamin D deficiency in people with diabetes
Higher levels of Vitamin D help produce telomerase, resulting in longing telomeres: the genetic marker of long life.
A vitamin D supplement can help prevent disease. Get the facts of what to take and how much.
Contact us and give us your comments, suggestions and feedback
Use search results to find the solar facts you're looking for
This page contains links to solar resources related to solar energy and related topics covered in our website
How can you support solar energy? By learning the facts and making good choices.
Here are some solar gifts, ideas and products to help spread the benefits of sunshine and solar energy