Small Business Opportunity: FIT eligible Cogeneration Plants in Germany – Produces High Pre-tax Cash Flows for Investors
The following is an overview of a small business opportunity based on the operation of combined heat and power (CHP) cogeneration units that will produce 150 kw (electrical) / 126 kw (thermal) per hour of operation.
These units qualify under the current German Feed in Tariff guidelines (§ 26 EEG) and are also eligible to receive the NaWaRo bonus income for using renewable fuel (ie rapeseed/canola oil) and for using cogeneration technology (KWK bonus) and will be installed at thermal energy using industrial sites in Germany.
These sites typically use the thermal energy for industrial production needs (rather than for just heating).
Interested parties can participate at different levels - depending on their financial goals. However, the larger the investment the larger the ROI because of the greater number of CHP units that can be acquired and installed.
The following information is based on prevailing market conditions as of April 2011 and is based on certain assumptions which are subject to market conditions and can change.
Cogeneration Units
The primary business of the joint venture is the acquisition, operation and receipt of income from the CHP units under the German Feed In Tariff guidelines.
CHP plants in Germany that produce electricity and heat from the burning of rapeseed oil qualify under the Biogas portion of the current German Feed in Tariff program. Under this program, all the electricity produced by the qualifying CHP and delivered into the grid system can be sold at a fixed price for 20 years following connection – just like electricity from solar.
RVV has chosen what we believe is the best CHP on the market in Germany. These CHP units are powered by a 6 cylinder engine produced by Volvo-Penta, specially designed and customized to run on DIN V 51605 rapeseed oil and are ideally suited for industrial use – where they will be placed.
Each CHP can produce 150 kWel (electricity) and supply 126 kWth (thermal energy) per hour of operation. We project each CHP unit will generate a minimum of 1,230,000 kWh of electricity and 1,033,200 kW of thermal energy per year based on 8,200 hours of operation annually.
The manufacturer who supplies the containerized base unit (along with generators manufactured by Leroy Somer) has installed more than 100 CHP units in Germany to date – so this is a proven technology using reliable components supplied by major companies.
For full technical specs CLICK HERE.

The CHP units are powered by a Volvo-Penta engine ... that is more than 70% efficient (important because this allows us to qualify for fuel tax refunds).
Each fuel efficient CHP unit will generate 1,230,000 kWh of electricity and 1,033,200 kW of thermal energy based on operating a conservative 8,200 hours per year.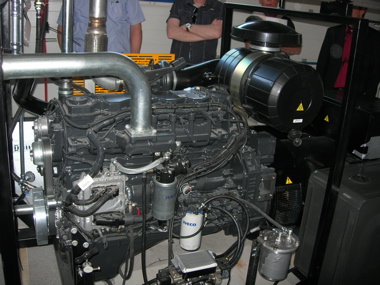 The generator is produced by Leroy Somer and its possible to remotely monitor the production of the electricity and thermal energy produced from the system.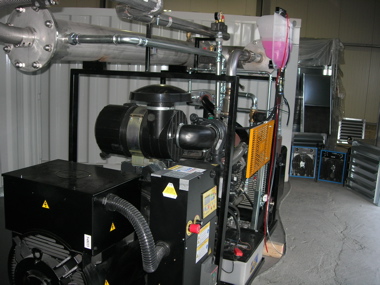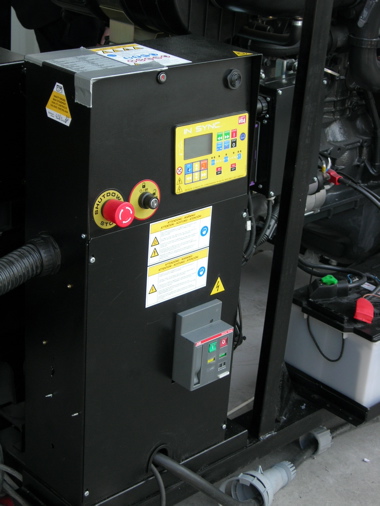 100% Full Performance Warranty + Insurance
The manufacturer guarantees the performance of the CHP units for 20 years.
A full service (with replacement) maintenance contract costs €21,320 / CHP unit per year. This price includes remote monitoring of the units, regular oil & engine testing / preventative maintenance, replacement of any part, travel & labor costs, and 100% interest coverage (liability and replacement).
Estimated downtime due to scheduled maintenance is 160 hours per year.
Income Produced
At current Feed in Tariff (FIT) rates of €0.2026 per kwh produced per year, each modified CHP unit will generate an annual income of €249,075 from the sale of electricity for each of the 20 years of the applicable FIT period (if installed in 2011). if installed in 2012 the FIT rate is expected to be 1.5% lower or €245,339 per year.
Each CHP unit also produces 1,033,200 kwth of thermal heat. RVV plans to install our CHP units at industrial locations that require heat for production purposes (as opposed to for seasonal heat requirements). RVV anticipates a price of at least €0.06 / kwth of themal heat produced and delivered.
Thermal energy will therefore contribute an additional €61,992 per year in income and bring the total income produced from each CHP unit installed in 2011 to €311,067 per year (for 20 years).
All electric and thermal energy produced and delivered is monitored via an online remote system using meters built into the system. Any excess heat is cooled and recycled to maintain optimum engine temperature for maximum performance.
For detailed income assumptions used in our financial models - click here.
Fuel Cost Assumptions
Each installed CHP unit also includes a 20,000-liter, double-walled fuel tank, mounted in an insulated shipping container. This is more than enough fuel storage for a full month of operation.
Each CHP unit will use approximately 21.5 liters of fuel of rapeseed oil / hour. Based on 8,200 hours of operation and a cost of €0.75 per kg – annual fuel costs are expected to run €119,925 per year (based on 159.9 MT of rapeseed oil @ €0.75 / kg).
Additionally, RVV (through it's fuel experts) provides ongoing management of the units, arranging long term fuel contracts, regular fuel resupply, billing / invoicing for heat & electricity, etc. RVV (working with our fuel experts) charges €600 / month per installed CHP unit to provide these services.
Because our CHP units operate at more than 70% efficiency (we run the engines at 75% of capacity and the heat exchangers at 90%) we qualify for a €0.035 rebate of fuel taxes (or about €6,171 per year in fuel cost reductions per CHP unit).
Favorable Legal & Tax Structure
At the advice of our legal and tax advisors (KPMG) we use two linked companies to pursue this opportunity. The first company is a limited partnership. In Germany this type of company is known as a KG (similar to an LLC in the USA). ReOil Verwaltungs-GmbH is the unlimited partner ... and the investor (or investor's company) is the limited partner.
The second company we use is the more traditional capital based corporation. In Germany there are two forms (a GmbH with limited capitalization, which we will use) and the AG form (used more for larger companies with a larger capital base).
The GmbH will be the operating company. It will own and operate the CHP units, receive income and pay expenses for the CHP, borrows money, keeps working capital reserves for fuel purchases, etc.
The KG will own 100% of the shares of the GmbH and through a profit participation agreement – 100% of the profits from the GmbH will be distributed to the KG. After paying the 15% German Business tax, the balance of the profits will be split equally between RVV and the Investor.
There are three significant advantages to the investor with this two company structure:
1) We avoid double taxation on dividends that normally occurs when a corporation disburses profits to their shareholders (i.e., a savings of 15%).

2) We can structure the investor's financial participation as a loan to the general partner – and thus provide for a non-taxable return of principal.

3) This structure creates a firewall between the debts of the KG and GmbH and the investor.

We've used top advisors to structure the joint venture to maximize the return of principal and profits to the investor.
Financing Available
We are able to arrange two types of financing to boost the return levels for qualifying joint venture partners, namely:
Lease Financing: We currently have 3 different sources of lease financing available for the basic CHP units. Terms vary somewhat with each supplier, but it is possible because of the reliability of the equipment and the income produced to obtain financing of up to 90% of the total purchase price of the equipment.
Fixed Interest Project Financing Besides lease financing, we have the ability to finance the fuel and working costs associated with each unit. For example, the 20,000 liter tanks we supply are sufficient to operate the unit for around 45 days - which in most cases is sufficient until the first income payments are received.
Additionally, after the first units are connected to the grid, we can increase our project loan credit lines to finance additional leases and fuel purchases - thus allowing us to reinvest a portion of the profits generated into additional units.
NOTE: It's important to keep in mind that as the "limited partner" the investor is not liable for any of the lease or project loan payments, this responsibility falls squarely on the GmbH and specifically on the unlimited partner (us).
Projected Results At Different Levels of Investment
This opportunity can easily be adapted to accommodate different levels of private investment and reinvestment. As you would expect, larger investments produce higher returns because of the number of units that can be acquired and the greater access to financial leverage (leasing and project loans) as well as the possibility to reinvest profits in the early years into additional units.
Click here to see examples of annual returns at different levels of investment - based on installations over an 18 month period
Please note that these returns are after payment of German business tax, but before payment of applicable income taxes to the investor. As part of your due diligence we recommend you speak with a competent tax advisor (we can introduce you to our advisor at KPMG ).
Also - keep in mind that returns can be fine tune and enhanced depending on the amount of reinvestment and project loans we take on.
Installation & Delivery Schedule
Generally the number of units shown above is the number of CHP units can be ordered and activated within the first 18 months of the partnership – with the first units starting to produce income during month 6 of the partnership.
Speed of installation and delivery of future units depends on:
1) Manufacturer's backlog at time contract is entered into
2) Financing structure used (we typically use a combination of lease financing for the units, and project loans to finance fuel purchases and working capital ... at least until the first units are installed and operational).
Note: Interested investors will receive a detailed set of projections based on the investment amount they are considering.
Return of Capital Investment Amount
As mentioned previously, RVV has structured this investment to provide not only tax-minimized profits to the investor, but also for the return of their original investment amount.
This is accomplished by entering into a 3 year loan with the investor, secured by RVV's share of the KG's profits. The full loan amount, plus accrued interest of 5% per year is payable on or before 36 months after the investor has signed the Joint Venture Agreement and deposited their funds to activate the partnership. Because of the loan arrangement – the return of principal to the investor is not taxed.
Risk Analysis
The financial projections shown previously are based on certain forward assumptions, which are believed to be reasonable based on current and historical market conditions – such as availability of leasing and project financing, and current costs for rapeseed oil and maintenance of the units.
While the performance of the units is guaranteed for 20 years, and the income rates are also guaranteed (paid by a major German Utility Company – but guaranteed by the German Government), the price of the rapeseed oil may fluctuate over the 20-year term of the partnership.
To minimize this risk we try to secure long-term fuel supply contracts for the rapeseed oil. One of the biggest Rapeseed producers in Germany is an investor in RVV's mother-company, and one of our close advisors monitors rapeseed oil trading in Germany – so we have some excellent industry contacts on the supply side that will help minimize this risk.
We've built a 2% inflation rate into our financial models. However, if fuel prices escalate faster – we plan to build in an escalator charge for the heat we sell that allows us to adjust prices based on changes in fuel costs.
Our financial models are based on 8,200 hours of operation per year. The maintenance contract requires 160 hours of scheduled downtime for routine and preventative maintenance. If there were a major problem (e.g., need to replace the engine), the manufacturer will typically remove the entire system and replace it. This can usually be done in less than one day. So while there is a risk that we may operate less than 8,200 hours per year (e.g, fuel shortage, trouble with the utility provided transformer, grid related problems, etc.), there is also the opportunity that we could operate for more than 8,200 hours per year.
To Request a Customized Proposal
Customized small business opportunity proposals can be structured for any number of CHP units, and can be easily amended and expanded to allow for additional units to be added over the term of the agreement by mutual consent.
To request a full detailed proposal specifically for you, please complete the following form and we will send you a more detailed and updated forecast specifically tailored to your inquiry.
To Quickly Find More Valuable Articles
To learn more about cogeneration, small business investment opportunities to participate in industrial rooftop solar projects in Italy, or any other valuable information or advice about any specific subject - use our built-in / Google Powered site searching tool below. Just type in a few key words or phrases to search this site. our solar news and health blogs for related articles. With more than 600 articles published so far – we have lots of detailed information available.

Custom Search
Back from this page about this Small Business Opportunity to our introductory page about cogeneration