Trina Solar Is Expanding Rapidly
Trina Solar Limited (NYSE:TSL) is based in Changzhou, China. The company is one of the few PV manufacturers that have developed a vertically integrated business model from the production of mono-crystalline and multi-crystalline silicon ingots, wafers and cells to the assembly of high quality modules.
History
Trina Solar Limited was established in December of 1997 by Chairman Jifan Gao with a small group of scientists during the infancy of the solar PV industry in China. Inspired by the growth of solar PV industry abroad and particularly the Clinton administration's 'Million Solar Roofs' initiative in the United States, Mr. Gao identified a trend in the market that he believed could benefit to China. Mr. Gao's initial plan was to create a solar PV system installation company focused on providing solar energy to different regions in China.
Given the success of Trina Solar's initial efforts in helping to develop the solar PV industry, the Chinese government selected Trina Solar as the first privately-held company to participate in the Western Brightness Program, an initiative aimed at bringing electricity to remote regions in China. Shortly thereafter, in mid-2003, Trina Solar successfully implemented its first system installation project by installing 39 solar power generation stations in Tibet.
During the fall of 2004, Trina Solar recognized the need to scale up operations and began an aggressive expansion plan to become a fully vertically integrated company. The first step towards vertical integration was to initiate module production, and in early 2005 Trina Solar opened a module production facility.
Soon thereafter, Trina Solar expanded its operations back up the PV value chain with the production of its first monocrystalline ingot in August of 2005. The ingot facility became fully operational in October of that same year. The operations team continued to execute on its ambitious expansion plan and began manufacturing wafers in February or 2006, reaching 28MW of output by year end.
Financing & Public Listing
In 2006, Trina Solar received investment from a number of internationally recognized investors including Milestone Capital, Good Energies, and Merrill Lynch. These investments served as the starting point for the company's internationalization and were vital to ensure capacity and brand expansion.
The listing in the New York Stock Exchange (NYSE) in December 2006 and the subsequent capital infusion in June of 2007 allowed Trina Solar to successfully continue its expansion plans, guarantee a rapid increase of production capacity and ensure procurement of raw materials. At the same time, the listing on the NYSE and support of international investors allowed the company to attract talent from around the world.
Global Marketing
As production capacity rapidly expanded, Trina Solar also began to promote its brand aggressively overseas and secured its first group of customers in Germany. These customer relationships expanded rapidly and soon Trina Solar began working with industry leaders who sought long-term partnerships with the company, enabling Trina Solar to extend sales to other countries including Italy, France, Belgium, Netherlands, Norway, Korea, Australia, USA and many other European, and Asian countries.
Trina Solar's increasingly global presence currently includes offices in China, Germany, Spain and the United States, as well as a team of local sales managers in every key country in Europe to provide our customers with prompt and professional service and support. In addition to this, Trina Solar also offers after sales technical service support to its Asian, European and North American customers.
Products
Trina Solar produces standard solar monocrystalline modules ranging from 175 W to 245 W in power output and multicrystalline modules ranging from 220W to 240 W in power output, built to general specifications for use in a wide range of residential, commercial, industrial and other solar power generation systems.
The interconnected cells are laid out, laminated in a vacuum, cured by heating and then packaged in a protective light-weight aluminum frame. Once sealed, our solar modules become weatherproofed and are able to withstand high levels of ultraviolet radiation and moisture.
The following table lists the various sizes and efficiency rating of the Trina Solar panels: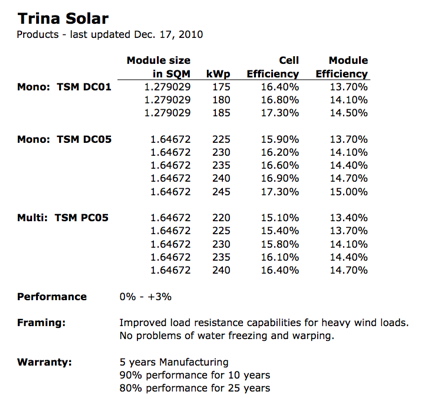 Manufacturing Capacity
Trina Solar increased its installed capacity from 150MW at the end of 2007 to 350MW by the end of 2008 and 700MW by the end of 2009, and estimates shipments for 2010 will top 1 GW.Trina Solar research, development and manufacturing of ingots, wafers, cells and solar modules are conducted at its facilities in Changzhou, China, where Trina Solar occupies a site of approximately 152,526 square meters. Trina Solar's ongoing expansion plans include adding approximately 161,475 square meters to its existing facilities to increase its production capacity.
Outlook
Market analyst Pike Research recently recognized Trina Solar as one of the powerhouse companies that is competitive enough to dominate the solar market from this year onward.
According to China Analyst, Trina Solar is one of the two best performing solar energy stocks in 2010.
Recent News
Trina Solar signs with SERIS to increase monocrystalline production efficiencies to 21.5%
Trina Solar Releases 3rd Quarter Results
Back from this page on Trina Soalr to our Home Page for Solar Energy