Coors Field: One of the First Baseball Parks to go Solar
Coors Field was one of the first Baseball Parks to go solar, with the installation of 46 solar panels. The panels and agreement are between the Rockies and Xcel Energy.
The 9.89 kilowatt solar array will produce over 14,000 kilowatt hours of energy, reportedly enough to offset the consumption of the Rockpile LED board over one year. In the walkway just under the system, a flatpanel monitoring system shows fans the real time consumption of the Rockpile LED board as well as the real time energy production from the solar array.
Because Denver is located one mile above sea level, insolation levels at the site are boosted by 20%.
Coors Field Highlights
Coors Field combines the nostalgic feel of a 1920s urban ballpark with 21st century technology and conveniences.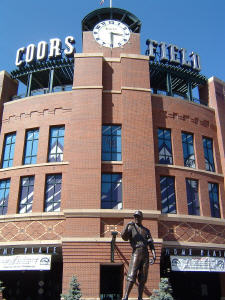 Its old fashioned brick facade allows the ballpark to blend into downtown Denver. One of the park's signature features is the clock, located at 20th and Blake Street. This is a location for fans to meet prior to the game. Inside, the main three tier grandstand extends from the left field foul pole to homeplate, to the right field foul pole, and around into right-center field.
Marking one mile above sea level is a row of purple seats that extend around the entire upper deck.
The "Rockpile," a 2,300 seat bleacher section is located behind the centerfield backdrop and offers a unique view of the playing field.
The main scoreboard is located beyond the left field bleachers, while a 14 foot high out of town scoreboard makes up part of the right field wall.
The bullpens are found behind the right field fence; along with a tree/rock covered mountain scene that contains water fountains. The Rockies relievers even plant a small garden near their bullpen.
At an elevation of 5,200 feet Coors Field instantly became a hitters paradise upon opening. The thin air increases runs and homeruns by 50 percent. With its dramatic views of the Rocky Mountains, this solar powered ballpark has become one of the most popular in baseball.
To prevent the ballpark from being imposing on nearby neighborhood buildings, the field is located 21 feet below street level.
In fact, during construction, workers discovered a number of dinosaur fossils throughout the grounds, including a 7-foot-long (2.1 m) 1,000-pound (450 kg) triceratops skull. Because of this, "Jurassic Park" was one of the first names to be considered for the stadium.
This later led to the selection of a dinosaur as the Rockies' mascot, "Dinger."
The Rockies ballpark was the only major league park with an underground heating system until the construction of Target Field, home of the Minnesota Twins.
var _gaq = _gaq || []; _gaq.push(['_setAccount', 'UA-20080285-1']); _gaq.push(['_trackPageview']); (function() { var ga = document.createElement('script'); ga.type = 'text/javascript'; ga.async = true; ga.src = ('https:' == document.location.protocol ? 'https://ssl' : 'http://www') + '.google-analytics.com/ga.js'; var s = document.getElementsByTagName('script')[0]; s.parentNode.insertBefore(ga, s); })();