Emcore Stands on Three Strong Legs of Light
Emcore Corporation (NASDQ: EMKR) a leading provider of Semi-conductor-based components and subsystems for the broadband, fiber-optic, satellite and terrestrial solar power markets. As of Feb 21, 2011 – the company's stock was up over 120% YTD. Why?
Three Legs of Light
Emcore Solar Photovoltaic technologies convert optical light into electrical energy, enabling power generation. Within this division are - solar for satellites -- and solar for terrestrial (primarily CPV) installations.
Emcore Fiber Optics technologies convert electrical energy into optical signals, enabling high-speed communications infrastructures
Three Emcore business lines – connected by the power of light.

Semiconductors and Fiber Optics
Emcore Corporation is a leading provider of compound semiconductor-based components and subsystems for the broadband, fiber optic, satellite and terrestrial solar power markets.
Emcore's Fiber Optics unit offers optical components, subsystems and systems that enable the transmission of video, voice and data over high-capacity fiber optic cables for high-speed data and telecommunications, cable television (CATV) and fiber-to-the-premises (FTTP) networks.
Emcore's IMM Solar Technology
Emcores' world record Inverted Metamorphic (IMM) solar cell technology was chosen by R&D Magazine for an R&D 100 award. This prestigious award recognizes the IMM solar cell as one of the most innovative technologies of 2008.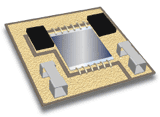 Developed in conjunction with the National Renewable Energy Laboratory (NREL) and the Vehicle Systems Directorate of the US Air Force Research Laboratory (AFRL), the IMM design is comprised of a novel combination of compound semiconductors that enables a superior response to the solar spectrum as compared to conventional multi-junction architecture. Due to its unique design, the IMM cell is approximately one fifteenth the thickness of the conventional multi-junction solar cell and will enable a new class of extremely lightweight, high-efficiency, and flexible solar arrays for space applications.
The IMM solar cell technology provides a platform for Emcore's next generation photovoltaic products for space and terrestrial solar power applications. With the growth in demand for utlity sized CPV project s the IMM technology is now reaching the market and helping to push the companies stock upwards in 2011.
Space Photovoltaics
More than 1,000,000 flight-proven solar cells are powering over 90 satellites today.
For satellite applications, Emcore offers high-efficiency compound semiconductor-based gallium arsenide (GaAs) solar cells, covered interconnect cells and fully integrated solar panels.
Terrestrial Solar Power
For terrestrial applications, Emcore offers concentrating photovoltaic (CPV) systems for utility scale solar applications as well as offering its high-efficiency GaAs solar cells and CPV components for use in solar power concentrator systems.
Solar cells built using IMM technology have achieved a 39% efficiency level (which is expecte to increase to the 42%-45% range) when adapted for use under the 500-1500X concentrated illumination, typical in terrestrial concentrator photovoltaic (CPV) systems.
Furthermore, this technology can be readily integrated into Emcore's complete line of CPV receiver products and the increased conversion efficiency will enable the most cost effective CPV systems.
Once fully commercialized, the CPV systems that are powered with EMCORE's IMM based products will see a reduction in the cost of power generated by approximately 10% to 20%.
Emcore has developed a strong intellectual property position for this innovative technology, with over 10 patents pending in the area of solar cell design and manufacturing techniques.
To Quickly Find More Interesting Articles
To find related and other interesting articles - use our built-in / Google Powered site searching tool below. Just type in a few key words or phrases to search this site, our blogs, our Facebook fan page and other sites for related articles.

Custom Search
Back from this page about Emcore to our introductory page about investing in solar energy stocks